Title tags are one of the most effective "quick win" levers you can pull for any website for higher rankings and more traffic.
There's a lot of science behind successful title tags: keyword usage, click-through rates, length, and more.
Raising Your Title Score
SiteSeer scores your titles from 0-100 (as long as the page generates enough keyword data from Google.) The score is based on several factors:
Keywords used to find the page in Google
Keyword position
Uniqueness
Length
… and other proprietary factors.
A score of 90 or above is considered well optimized.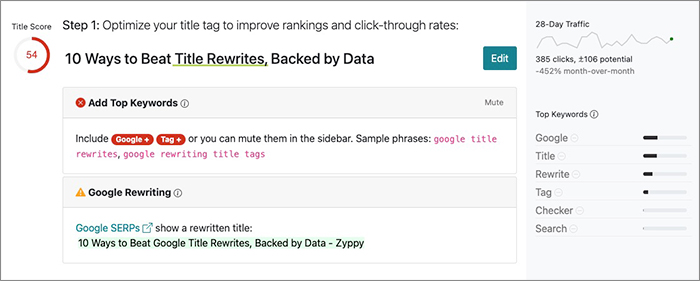 You can raise your score by editing the title according to the suggestions offered on the page. A higher score doesn't guarantee you'll get more search traffic, but on average, SiteSeer's suggestions are designed to do exactly that.
If you've ever looked into your keyword data, you know each page can rank for 100s of different search queries. SiteSeer's unique algorithm can surface your most important keywords across all important queries, so you don't miss out.
Here's how to optimize your titles:
Use the suggestions and inline editor to craft a good title to raise your score. (Tip - you can "mute" keywords in the sidebar simply by clicking)
Make sure also to edit the title on your website. Alternatively, if you have WordPress or Cloudflare enabled, SiteSeer can instantly publish live to your site.
Once the changes are live, you can hit "Recrawl" to see your updated score.
Keep in mind that not all title changes are successful. Be sure to monitor your traffic to updated titles—using SiteSeer—to see which title changes work best for your site.

Four Tips for Successful Experiments
We've helped run literally thousands of experiments, and we've learned a thing or two. Here's our best advice for running title experiments:
Keyword data is your best tool for writing better titles
Good copywriting is another potent weapon. Algorithms and data will get you far, but often it helps to tap into human psychology
Not every experiment will be a winner
For compounding gains, keep the winners and with any losers, revert or try again.